"Grüezi, CoJackHydra"
From the turn of the year 2016/2017, CoJackHydra will be used for the first time in the federal capital of Switzerland.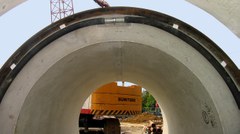 Bern is the capital of the correspondent canton of Bern as well as federal capital of Switzerland. Around Viktoriaplatz, forming the centre of the quarter called Spitalacker, which is situated directly to the north of the city centre, the civil engineering department of the city of Bern implements a jacking project consisting of seven jacking sections with a total length of 1.2 km at a nominal pipe diameter of 1200 mm.
In addition to four straight jacking sections, the lay out of the line also requires three fairly demanding jacking sections with curves and even s-curves with very narrow radii of 200 m. The construction work is done by the Swiss contracting and construction service provider Implenia Schweiz AG, Wallisellen (CH), who is also the party that (in agreement with the city of Bern) has made the order for CoJackHydra.
CoJackHydra (see Figure 1) is a combination of a new hydraulic pipe joint which is optimized for difficult jacking lines and a specifically adjusted electronic monitoring system. The key feature of CoJackHydra is the hydraulic force transmission combined with sensors installed in situ which provide measured data for a comfortable and reliable online monitoring by means of CoJack (see Figure 2). Even three-dimensional and s-curves with narrow radii can now be driven smoothly by means of high permissible jacking forces.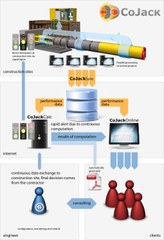 Due to the modern lay out of jacking sections, jacking pipes have to cope with continuously higher demands. Looking back at recent years, it is apparent that jacking lengths are constantly increasing, while tight curves are being required more and more frequently. Even complicated combinations of curves, some of them with multiple s- or three-dimensional curves, are no longer uncommon in tendering.
Given these requirements, the conventionally used pipe joints with pressure transfer rings made of wood or chip boards often reach their limits. Sometimes the problem only becomes apparent when, during planning, the obligatory pre-structural calculations for the pipes according to DWA worksheet A 161 permit such small jacking forces that the number of required intermediate jacking stations increases excessively and unexpectedly or jacking measures are no longer feasible. In many cases, particularly with regard to s-curves, even the proven OSB (oriented strand board) is overstrained.
The most important pros of CoJackHydra are:
Reduction of construction costs
Flexible alignment in the planning stage
Increased jacking lengths
Increased pipe lengths
Waiving of intermediate installation shafts
Decreased number of intermediate jacking stations
Higher jacking force reserves
Increased jacking velocity
Continuous monitoring of pipe stress
CoJackHydra is offered jointly by S & P Consult GmbH, Bochum and TuSo GmbH, Pullheim.
It is encouraging to see that a product which has been developed in Germany meets the high quality standards of the Swiss network operators and it is hoped that the greeting "Grüezi, CoJackHydra" will be heard from further Swiss cities in the future.
Contact
S & P Consult GmbH
Dr.-Ing. Robert Stein
Konrad-Zuse-Straße 6
44801 Bochum
Germany
Phone:
+49 (0)234 / 5167-113
Fax:
+49 (0)234 / 5167-119
E-Mail:
robert.stein@stein.de
Internet:
To website