1000mm pipe cutter from the TT Group
The new roller blade is not exactly an everyday contractor's tool.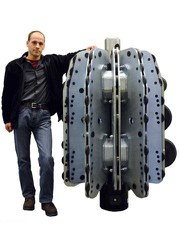 It is designed to be used for the renewal of potable water pipes and other gas and oil pipelines to be replaced using the pipe-bursting method. The largest Grundoburst rig from TT, the 2500G, has been in use in Russia for some time and has renewed numerous pipes from 300 to 800 mm diameter with great success.
The job currently being planned, is a further challenge. For the first time a 1000 mm potable water pipe made of steel is to be renewed. For this special task it was necessary to develop a new roller blade.
The roller blade consists of a basic body, the exchangeable guiding strip with the guiding rollers and roller blade strips, which are also exchangeable. The basic body is intended for pipes with a diameter range of 400 to 1000 mm. The quantity and arrangement of the guiding strips, which hold the old pipe in a stable circular position during the bursting process, depends on the existing diameter.
In this case a total of 11 guiding strips with their guiding rollers hold the roller blade aligned to the old pipe. The precisely aligned guidance is important for a clean pipe. During the cutting process the guiding strips take over the task of keeping the circular cross-section of the old pipe in place.  In order to make sure this is guaranteed, the positioning of the rollers inside the guiding strips can provide an exact adaption to the actual old pipe diameter.
The cutting and bursting process itself is carried out by a 3-step assembled roller blade strip. The first roller blade is an innovative development and will be applied when the old pipe diameter has partially decreased below the diameter caught by the second cutting roller.
The main cutting work is carried out by the second roller blade. The 3
rd
roller blade allows pipe sockets or repair sockets to be cut apart. The cutting line can be situated at a distance of up to 150 mm from the outer coating of the old pipe.
The roller blade 1000 is equipped accordingly for the renewal of large scale pipes. It's length of 1600 mm provides a solid alignment in the longitudinal direction. The swivel integrated in the basic body provides an instant lead pulling force.
The pulling forces of up to 2.500 KN are transferred to the roller blade via the QuickLock rods, which each have a length of 2.200 mm and weight of 220 kg.
The roller blade 1000 from the TT Group will also make its own contribution by  successfully bursting pipes with larger diameters.
For more information please contact:
TT-UK Ltd
Windsor Road
Bedford MK 42 9SU England
Tel:(+44) 1234 342566
Fax:(+44) 1234 352184
Email: info@tt-uk.com
Website: http://www.tt-uk.com