Yarra Valley Water completes Doreen to Diamond Creek Sewerage Project
Yarra Valley Water has completed a $34 million project to upgrade the sewer network to support Melbourne's fast-growing northern suburbs. A proud adopter of trenchless technology, Yarra Valley Water has an emphasis on adding value while minimising disruption to the community and environment.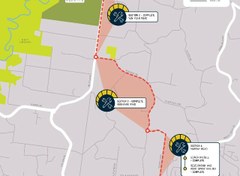 Yarra Valley Water has successfully delivered the Doreen to Diamond Creek Sewerage Project after two years of construction works. Design works commenced in February 2018, with design consultant Jacobs contracted to discern if there were any culturally significant artefacts on the banks of the Plenty River.
Jacobs found close to 400 aboriginal stone artifacts over an area of several hundred metres, after which the contractor consulted local Wurundjeri to negotiate a different construction technique to the traditional open-cut excavation method.
Horizontal Directional Drilling (HDD) was deemed the most viable solution to protect the archaeological site from harm. As most archaeological artefacts are located within the top 50 cm of soil, trenchless technology can effectively bore while avoiding disturbance to any culturally significant sites.
As well as retaining cultural significance, reducing the need to excavate helped to maintain the integrity of the ecosystem. Yarra Valley Water was careful to ensure that works did not affect water or sewerage services in the area.
Construction works commenced in March 2019 and were completed in November 2021. The project involved the installation of approximately 10 km of pipe and 17 new sewer maintenance holes under parkland and road reserves in the Doreen, Yarrambat and Diamond Creek areas.
The new sewerage infrastructure will service properties in the rapidly expanding Mernda and Doreen areas, delivering greater system reliability to cater for rapid population growth.
The project will also reduce the likelihood of sewerage spills during heavy rain events, according to Yarra Valley Water general manager Chris Brace. By reducing the likelihood of sewage spills, Yarra Valley Water is also ensuring provisions to protect the natural environment.
"We've worked with our delivery partners, MFJ Constructions and Jaydo, to deliver the project, which is among the top 10 projects we've committed to complete for our customers," Brace says.
Brace thanked contractors MFJ Constructions and Jaydo, and design partner Jacobs for their tireless effort during the project. "Our design partners Jacobs also salvaged almost 400 artefacts and we worked in partnership with the Wurundjeri Woi Wurrung Cultural Heritage Corporation to sensitively repatriate them," Brace says.
Contact
Yarra Walley Water
25 Lucknow St,
VIC 3132 Mitcham
Australia
Phone:
03 9046 4173
Fax:
(03) 9872 1353
Internet:
To website