Wrapping up the challenges in SA
In December 2022, Denso Australia completed the supply of a project involving the protection of 400 lineal metres of DN250 mild steel pipeline in Bolivar, South Australia.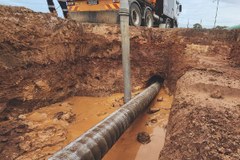 The field joints for the DN250 FBE coated pipeline were prepared to SA 2.5 (abrasive blast clean) prior to the contractor applying Protal 7700™ (rapid cure, high build epoxy) as the Field Joint Coating (FJC) at a nominal Dry Film Thickness (DFT) of 1000 microns via airless spray guns from 1000ml cartridges.
Following the inspection for both the mainline coating and field joint coating, Denso Bore-Wrap™ was applied on site in a two-layer system to protect against the abrasion, impact, gouging and shearing impacts which are to be expected when undertaking Horizontal Directional Drilling (HDD) installations.
Denso Bore-Wrap™ is designed to protect the underlying corrosion system and work efficiently with the cathodic protection system as it is a non-shielding Abrasion Resistant Outerwrap (ARO).
The ease of application for both the Protal & Bore-Wrap products contributed greatly to cost savings in labour and QA. In addition, the successful application of these products has assured that both the client's asset as well as the corrosion coating are protected long-term through the rigours of the HDD installation.
Denso (Australia), is a subsidiary of Winn & Coales International and specialise in the manufacture and supply of corrosion and chemical resistant coatings and linings for the long-term protection of steel, concrete and timber surfaces in the toughest corrosive environments.
The company is at the forefront of innovative corrosion prevention technology and has a focus on developing an extensive range of custom solutions to meet the specific needs of different industries.
Denso's full range of products are manufactured to comply with the strict quality standards. The products are designed for longevity, with corrosion prevention solutions that can offer up to 30-plus years of maintenance free service.
Contact
Denso (Australia) PTY LTD
Kyle Fortune
Contact VIC / NZ / Pacific Islands
77-95 National Boulevard
VIC, 3061 Campbellfield
Australia
Phone:
+61 3 9356 7600
Fax:
+61 3 9356 7699
E-Mail:
denso@densoaustralia.com.au
Internet:
To website