Wilmot Pipelining delivers the largest UV liner installation
Wilmot Pipelining has yet again showcased the company's ability to deliver large scale complex infrastructure rehabilitation successfully, whilst breaking records along the way.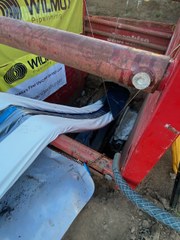 The team delivered what is already being labelled one of the most complex Trenchless Project of 2021 in Australia. The company delivered the emergency rehabilitation of the failed storm water culvert that collapsed during the flooding in March in a critical section of pipeline causing a giant sink hole, which meant the roadway had to be closed for residents safety until the repairs were completed.
The Wilmot engineering team worked closely with Brandenburger Liner in Germany to design and manufacture the custom structural liners for the culvert.As soon as the team could safely access the sink hole area, Wilmot's major works crew carefully excavated down on the sink hole and removed the collapsed section of the culvert. A large shoring box was installed to make the site safe and the team gathered the site details for the engineering team to design the custom CIP UV liner for the site. The construction crew also diverted the flows so the site was safe until the liners arrived. The Design was complete and the order placed with the manufacturer. Eight weeks later the custom liners arrived via ship from Germany.
The Wilmot team re-established on site and worked around the clock for a week on split shifts to install the liners. The installation threw every possible challenge at the team who responded magnificently, staying composed under extreme pressure. Over 250 meters of DN1600 Liner were installed over the week and the collapsed section of pipe reinstated. The open sinkhole was backfilled, compacted and finished off. The Wilmot team displayed multiple techniques and expertise to deliver this complex project for the client who were over the moon with the outcome. This project has now put Wilmot Pipelining on the map in the trenchless industry in Australia as a true leader and powerhouse in the sector. For more information visit the Wilmot Pipelining website.
Contact
Wilmot Pipelining
2/88 Munibung Road Cardiff
2285 New South Wales
Australia
Phone:
1300 942 028
Internet:
To website