What's on at Aquatech Amsterdam 2023
Aquatech is the leading water technology show in the world, with over 800 exhibitors and expecting over 22,000 visitors from over 140+ countries.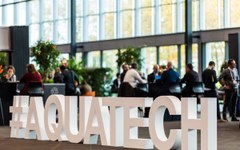 However, the reason why every water professional should be in Amsterdam this November has everything to do with the knowledge, innovations and connections you can gain. Aquatech proudly co-operated with some 50 partners to bring all this to Amsterdam.
Launching the Aquatech Worlds
The new four Aquatech Worlds are groundbreaking focus areas that embrace the current trends in the water industry, providing visitors with a comprehensive experience tailored to their specific interests and challenges. Introducing Clean Water World, Wastewater and Resources World, Industrial and Corporate Water World, and Digital World, Aquatech Amsterdam clusters content, challenges, and solutions, enabling visitors to navigate their way toward the right solutions and partnerships. By shifting from a product-focused approach to a challenge and solution-focused mindset, the Worlds embodies innovation and serves as a hub of educational and inspirational sessions, fostering efficient and effective learning from colleagues, technology experts, and knowledge partners.
Digital water is still a rapidly emerging field that holds immense potential for water professionals to transform the way we manage and optimize water resources. It involves using digital technologies, data analytics, and real-time monitoring to improve efficiency, sustainability, and decision-making in water management.
Drinking Water treatment needs to keep pace with increasing challenges. From increasing contamination threats to high energy prices and threats from climate change. It's time for clean water practitioners to assemble and share best practices and knowledge.
Waste Water & Resources World
Driven by Net Zero and circular ambitions, every single water user needs to reinvent themselves to reuse water and harness energy from waste. This World unites the forerunners leading the resource revolution. The programme is organised by GWI, EDS, Water Alliance and NWP.
Industrial & Corporate Water World
The industry is one of the biggest water users. Water issues have entered the board rooms of large companies, with water-related risks making companies act as stakeholders amongst other water users. The Industrial & Corporate Water World creates a meeting place where industry experts can exchange their ideas and experiences with their colleagues in the industry as well as with potential solutions providers. Topics include Challenging Water, Salts and Water, Bio in Water/Water Security, Safe Water Reuse, Water as a Utility, and Sustainable Mining.
InnovationLAB including the winners of the Aquatech Innovation Award
Research and development in water are vital for the future of many businesses, as well as for a sustainable future. The InnovationLAB features early-stage technology innovation for all to see, feel, smell and touch! The latest in research and development is shown, giving visitors a sneak preview of future technology trends in the water industry. Aquatech encourages and rewards organisations that innovate and stand out from the crowd by showcasing the nominees and winners of the Aquatech Innovation Award as well as demos and scale models of fundamental research projects by universities and research institutes.
InnovationLAB consists of:
Aquatech Innovation Award nominees & winners
InnovationLAB experiences
InnovationLAB speakers' corner
EU subsidised Innovation Projects
Circular Economy Pavilion powered by GWI
The Circular Economy Pavilion is a joint effort with GWI (Global Water Intelligence). GWI is the leading publisher and event organiser serving the international water industry. Over the last 15 years, they have built a business around being a trusted interface between clients and their markets, providing customers with high-level intelligence that enables them to make the most informed strategic decisions for their business. GWI brings precious content and insights to the Circular Economy Pavilion.
Bluetech Research Innovation Pavilion
BlueTech Research and Aquatech host the Innovation Pavilion for the third time. The Pavilion consists of 10 short-listed and specially selected companies and provides them with the opportunity to showcase the latest in cutting-edge water technology. The participants represent disruptive innovation, possibly upsetting old business models and causing a ripple effect in the water industry Selected participants come from around the globe and their technologies have huge potential in applications across both the utility and industrial sectors of the water industry.
EU Innovation Projects
The EU Innovation Projects Pavilion is a special pavilion hosting innovation projects that have received EU funding to develop further. Several of the projects will also give a presentation in the InnovationLAB.
AquaStage
Knowledge exchange and networking are important parts of the Aquatech trade shows. The AquaStage offers visitors and exhibitors networking opportunities and easy access to educational sessions, free of charge. Topics on stage include:
Desalination technology
Smart Water
Networks Innovation (nominees & winners of Aquatech Innovation Award)
Doing water business in China
The AquaStage includes over 75 speakers and topics.
Digital Water Pavilion
Smart water networks are the future of the water industry. Driven by the prospect that smart solutions will save water and money, the industry is gaining momentum. The Digital Water Pavilion, powered by SWAN and Bluefield Research, offers visitors a focused hotspot to learn all about the latest trends and technologies in the sectors. The Pavilion is complemented by a seminar programme at AquaStage.
World Championships Pipefitting
The World Championships pipefitting returns to Aquatech Amsterdam to celebrate the pipefitting professionals and their craftsmanship. Teams from around the world will be competing against each other. The competition includes mechanics, a rookie race, and a competition between the management teams. The Pipefitting Lounge is powered by Saint-Gobain and IPCO
Country Pavilions
Several countries from around the world gather their fellow exhibitors to showcase solutions under one flag, presenting their local products and solutions, knowledge and expertise. Many host networking receptions and presentations about the latest projects in their region.
Bayern (Region of Germany)
China
Denmark
Finnish
French
Italian
Korea
Netherlands
Sweden
Swiss
Taiwan (Province of the People's Republic of China)
United Kingdom
International delegations
At the initiative of local governments over 30 country delegations will visit Aquatech Amsterdam, including Mexico, Morocco and South Korea. These delegations, often welcomed by their ambassador in the Netherlands, get a guided tour on the show floor and meet specialists, tailor-made to their specific water interests.
Exhibitor Happy Hour
The exciting Aquatech Exhibitor Hour with live music, free drinks, and famous Dutch 'bitterballs' is now also available for visitors. Entrance is free for exhibitors, visitors can buy a ticket for 25 euros (excl. VAT) in the visitor registration.
AquaRun
Join the Aquatech running community and combine business with sports to have a healthy start to your day. The AquaRun is a 5-kilometer run from the RAI through the beautiful Beatrix Park and finishing back at the RAI. At the finish, a healthy breakfast awaits the runners, giving exhibitors and visitors of Aquatech a chance to network and start the day energized by this morning's activity. Proceeds are donated to charity.
Contact
gwf Wasser | Abwasser Vulkan-Verlag GmbH
Friedrich-Ebert-Str. 55
45127 Essen
Germany
Phone:
+49 201 820020
Fax:
+49 201 82002 40
E-Mail:
h.lyko@vulkan-verlag.de