WHAT HAPPENS WHEN YOU DON'T LOCATE BURIED UTILITIES BEFORE DIGGING?
Utility locating is the process of finding and marking utility assets, such as sewer and gas lines, that are buried underground.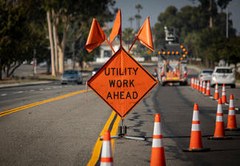 Utility locates protect the public from 
disasters
 such as gas line explosions or electrocution, which can occur if excavators strike a buried utility. Failure to locate underground assets before any digging project can have serious, even life-threatening consequences. Utility locating services also limit disruptions like power outages, boil-water advisories and evacuations; minimize construction delays; and significantly
 reduce the possibility of bodily harm
 occurring on worksites. 
CONSEQUENCES OF DAMAGING UTILITIES
A SUBSTANDARD LOCATE
In December 2015, a Caln, PA construction crew was replacing water lines when their track hoe hit an electric line. The line sparked enough to catch a nearby ½" gas pipe on fire, which raged for several hours before workers were able to turn off the gas. Firefighters, a fire police task force and other emergency crews responded to the scene, helping to evacuate local residents, route traffic and control the conflagration. 
While a utility locator had marked out utilities in the area prior to the start of the project, they failed to mark the street crossing where the electric line was eventually hit. The locator's oversight had a disastrous outcome, illustrating the need for comprehensive and qualified utility locating services to protect workers and the community alike.
AN UNIDENTIFIED ASSET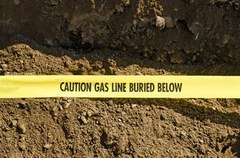 In September 2017, a construction crew performing demolition work in Bethesda, MD struck a buried utility line about 12 feet underground. The strike 
temporarily closed two lanes
 on the main road during the early morning rush hour, leading to heavy traffic delays. 
The utility line was unidentified, meaning that it hadn't been properly identified and marked by utility locators before the crew began working. A thorough locate would've made this disruption avoidable and saved the demolition crew resources, time and energy—and saved locals a major headache.  
AN UNSFE EXCAVATION
In early 2019, a San Francisco, CA excavation crew accidentally ruptured a 4" natural gas line, causing an explosion and a massive fire. The crew had such difficulty determining where the valves that would turn off the gas flow were located that the fire raged for over two hours, damaging local businesses and apartments. In the ensuing investigation, the NTSB's investigators found that the excavation crew had not conducted a proper locate before starting to dig. 
"This accident shows there are rules and procedures in place to ensure safe excavation; however, in this case, the construction crew chose not to abide by them," said Robert Hall, director of the NTSB's Office of Railroad, Pipeline and Hazardous Materials Investigations.
"Consequently," Hall continued, "the crew conducted mechanical excavation too close to the pipeline without taking the proper precautions first to make sure the area was safe to execute the dig."
The crew's decision to flout protocol resulted in disaster. And as in the case of the 2011 gas line fire, these damages could have been avoided if the crew had followed safe excavation standards.  
These stories illustrate how utility locating services protect both construction and utility workers and the communities they serve. Excavation is dangerous work, and the danger increases when locating standards are not met. Utilities can stay safe by adhering to local and federal utility locating practices, regardless of how big or small their projects may be.
Contact
ENVIROSIGHT
Jordan Fues
111 Canflied Ave.
NJ 07869 Randolph
United States
Phone:
866 567 8316
E-Mail:
mail@envirosight.com
Internet:
To website