Versatile electric pipe-cutter makes UK debut
The first all-electric battery-operated lateral pipe-cutter to enter the UK market has secured sole distribution with pipeline equipment specialist Ant Hire Solutions.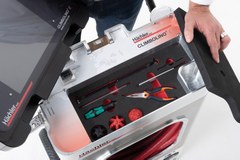 Hächler, the German manufacturing company that invented the Climbolino E cutter, is working in collaboration with Ant Hire to ensure its availability for hire and sale from March 2023.
Compared with traditional cutting machines, the Climbolino E reduces energy consumption by 90%, making it a sustainable choice for companies looking to reduce energy use on routine operations in line with water companies' net zero carbon ambitions.
Climbolino E can be used to remove a range of obstructions in sewerage and wastewater pipes, including iron, steel, tree roots, and build-up of non-biodegradable substances. The cutter can also be used to open lateral connections after pipe lining and for general rehabilitation work.
Each purchased unit comes with a detachable LED display, a full range of tools, four different cutting heads, and 30m hose. Should the hose or cutting head become damaged, they can be quickly and easily replaced on site by the operator reducing downtime making it one of the most productive pipe-cutters in the UK market.
Time-saving design
Climbolino E is specifically designed to be ergonomic and compact, ensuring it operates efficiently and is not cumbersome to use. This saves operatives time and minimises interruptions to workflow.
To optimise use of space, the Climbolino E does not require a compressor to power the cutting motor making it is easier to transport, handle, and set up. This also means it is well suited to locations with limited access and noise restrictions, for example in residential or urban areas.
Adrian Thompson, managing director, Ant Hire Solutions said, "Listening to feedback from Ant Hire customers over many years, we know that maximising efficiency on site and minimising downtime are of the upmost importance to them. The Climbolino E offers a fantastic solution in both these areas and Ant Hire is very excited to have the privilege of bringing it to the UK market."
The Climbolino ,  with its optional pipe guides, is suitable for pipelines ranging from DN60 to DN300 (60-300mm diameter), significantly boosting the range of pipe sizes that can be serviced using a single cutter.
Robotic functions
The entire unit is powered by interchangeable 56-volt DeWalt batteries, which can be quickly replaced to enable continuous power supply and operation. When in operation, the robotic cutting heads are controlled with a one-handed joystick mechanism for easy manoeuvrability. Paired with the fully flexible hose, it can navigate pipe bends up to 90 degrees.
To achieve a full picture of the pipework obstruction, a camera lens is used to transmit an image onto a clear and detachable 12" (300mm) LED display for full visibility.
Rolf Peters, managing director of Hächler said, "When demonstrating, I always see the amazement from customers when I push the Climbolino E through their various test sections, often effortlessly. Not many customers expect to see the outstanding flexibility and enormous power of the cutter, hose, and camera combination, which is what makes it so special and unique as a milling robot.
"Hächler is very excited to be working with Ant Hire to debut it in the UK market."
As part of the collaboration, the hire and sale of the Climbolino E will be fully supported by Ant Hire Solutions' service and repair centre with demonstrations and training available to customers on the UK mainland.
Contact
Ant Hire Solutions
Jon Hodgson
Business Development Consultant
Queen Street Stourton
LS10 1SL Leeds
United Kingdom
Phone:
+44 (0)7761 608598
E-Mail:
jon.hodgson@anthire.com
Internet:
To website