Unitywater appoints Anna Jackson new Chief Executive Officer
Water and sewerage services provider Unitywater today announced it had appointed Anna Jackson its new Chief Executive Officer.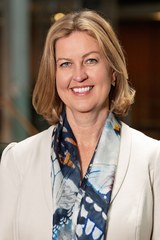 Ms Jackson comes to Unitywater from state government-owned SA Water, where most recently she was General Manager Customer and Commercial. Ms Jackson has also held executive roles responsible for business strategy, water security and quality, innovation, customer engagement and environmental and social governance. Unitywater Chairman Michael Arnett said Ms Jackson's skills, experience and personal values were an ideal fit for Unitywater's strategy, vision and culture.
"Anna has a well-earned reputation for developing businesses that deliver excellent customer service and environmental performance while making a real difference in the communities where they operate," Mr Arnett said. "Anna joins us at an exciting time for Unitywater as we meet the water and sewerage needs of a growing population across Moreton Bay, the Sunshine Coast and Noosa. "Anna is an outstanding talent and I'm looking forward to working with her as we continue to build a modern, high-quality water and sewerage services provider."
Prior to SA Water, Ms Jackson held senior business development and corporate affairs roles with global consulting and engineering firm Tetra Tech International Development, aerospace and defence company Raytheon and in federal and state government. Ms Jackson is a member of the Australian Government's Australian Water Partnership Advisory Committee and the Water Services Association of Australia's Liveable Communities Committee and a supporter of WaterAid. "The forecast growth across the Sunshine Coast, combined with significant climate and environmental challenges that we're facing, will create opportunities for Unitywater to deliver even more innovative solutions, which I am delighted to be a part of," Ms Jackson said.
"Having spent time in the region throughout my adult life and knowing Unitywater's reputation as a customer-centric business, I am looking forward to becoming a member of the local community and joining the team to lead this next stage of delivery for Unitywater's customers and the community." Ms Jackson will join Unitywater in July when she finalises her commitments at SA Water.
Mr Arnett said Ms Jackson would take charge of an organisation in great shape, reflecting the performance of the previous permanent CEO George Theo and acting CEO Pauline Thomson, who is also Unitywater's Chief Financial Officer. "We again thank both George, who held the organisation's reins for the best part of a decade, and Pauline for their invaluable leadership," Mr Arnett said. "Unitywater is a stronger, more resilient and better business for their contributions."