Two New Pipelines for SA
SA Water is commencing installation of two new water mains in South Australia as part of the utility's $155 million four-year water main management program.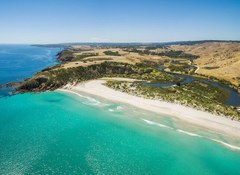 This includes 410 m of new water main installed at Willaston and 370 m of new main at Willamulka on the Yorke Peninsula. The Willaston pipe is being laid beneath Right Street and Paxton Street, and is among 47,000 metres of water mains going in the ground for SA Water customers across regional South Australia over the coming year.
The Willamulka pipeline will be laid beneath Wembley Boundary Road. Both projects will use PVC pipe, which is renowned for its chemically inert properties and its resistance to soil movement. SA Water general manager Amanda Lewry said the utility is proud to extend the life of the networks for another 100 years. "We will also ensure our customers are notified of any temporary water supply interruptions that are necessary when we move their connections over from the old to new pipes," she added.