The Perfect Mix - STEIN Ingenieure GmbH Expands Its Product Portfolio with CargoCap
The CargoCap system was designed on behalf of the Ministry of Education, Science and Research of the State of North Rhine-Westphalia, Germany in the years 1998 to 2002 within the framework of an interdisciplinary research association initiated and evaluated from a technical, economic, ecological and legal point of view.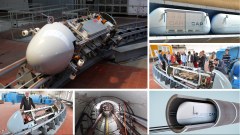 Since then, the technical further development up to the operational maturity that has been reached in the meantime has been carried out by CargoCap GmbH, Bochum, founded in 2002, in close cooperation with STEIN & PARTNER Consult. Also since the beginning of the research activities in 1998, the latter has been involved as a project partner for all related civil engineering tasks including routing and operational planning.
The CargoCap system is an innovative, automatic, underground freight transport system. It is designed as a 5th transport alternative for freight traffic in cities and conurbations, thus complementing the conventional transport routes of road, rail, water and air. Palletised goods are transported from freight distribution centres on the periphery of cities or conurbations to the city districts or to major customers, logistics centres, etc. They are automatically transported through underground pipelines with an internal diameter ≥ 2.0 m, independent of above-ground traffic congestion and weather conditions. They are carried out quickly, economically, reliably and in an environmentally friendly manner by autonomous, electrically and fully automated transport vehicles (called Caps). CargoCap is designed as an independent, efficient and easily expandable system that meets operational profitability requirements. This reduces CO2 emissions to a considerable extent and makes sustainable and climate-neutral transport concepts in cities possible.
For organisational reasons and to make use of synergy effects, STEIN Ingenieure GmbH has taken over all responsibilities as well as the further marketing and sales of the CargoCap system since 01.01.2021. STEIN Ingenieure GmbH emerged in 2020 from the merger of STEIN & PARTNER Consult GmbH with Ingutis GmbH. With more than 60 employees, including experienced pipeline engineers, structural engineers and geologists, it has the necessary technical expertise and resources to implement the system in practice.
Responsible for the CargoCap system within STEIN Ingenieure GmbH is Dr.- Ing. Robert Stein, who is also managing director of CargoCap GmbH.
Contact
STEIN Ingenieure GmbH
Dr. -Ing. Robert Stein
Managing Director
Konrad-Zuse-Straße 6
44801 Bochum
Germany
Phone:
+49 234 5167 0
E-Mail:
bochum@stein-ingenieure.de
Internet:
To website