Success with SAERTEX-LINER® MULTI S+ for Southern Relining
Municipal wastewater pipes and pressure line networks are in constant need of repair and maintenance. Southern Relining understands firsthand that offering trenchless methods of rehabilitation in their cohesive collection of services is a sustainable choice that ultimately gives their commercial, government and domestic customers long-term and cost-effective results.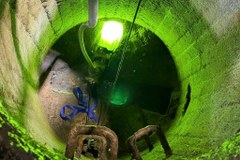 After more than 15 years in operation, Southern Relining has undertaken work on large commercial installations, countless domestic jobs, as well as successfully tendering to local governments for utility work.
Driven to offer long-term rehabilitation solutions, Southern Relining recently undertook a relining package in Bowral NSW on behalf of Wingecarribee Shire council. Part of this package involved restoring flow to approximately 110 metres of DN150 pipe located under Corbett Gardens and continuing under a busy retail strip which included coffee shops, retail businesses and public toilets.
Keen to keep disruption to retail trade and the community to a minimum, the job was carried out over the course of one evening from 6pm – 6am.
Full length trenchless rehabilitation was the logical choice to avoid extensive excavation and to guarantee no weak points in the relined sections.
On site, it was discovered that the host pipe was extremely compromised, and CCTV inspection revealed several holes plagued the concrete mainline which was drastically reducing flow rate in the pipe from the surrounding businesses.
To overcome this hurdle, Southern Relining turned to SAERTEX-LINER® MULTI, a fiberglass-reinforced liner from SAERTEX multiCom® GmbH, industry-leading manufacturer of UV-cured fiberglass-reinforced lining tubes for both wastewater and supply lines.
With a proven record of over 99,000 installations, SAERTEX-LINER® MULTI was a great solution on this job as it was easy to handle on site and promised a short inflation rate and cure time.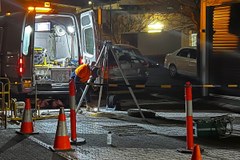 The team was also really impressed that the gliding and UV light protection foil came standard which saved them money on additional consumables.
When discussing the project, the team noted "what we really liked about this product was that we didn't need any glide foil which was one less thing to deal with on site.  We were also really impressed with the inflation time."
Furthermore, SAERTEX-LINER® MULTI has a technical service life of 100 years, which gave Southern Relining's customer further confidence in the long-term reliability of their choice.
On site, the team were faced with important preparation measures, including having to use a rope to pull the CCTV camera through the voids because of the deteriorated state of the host pipe, and the approach to the pre-cleaning needed to be carefully considered to avoid collapse.
To add to the job complexities, the weather wasn't in the favour of the team of four undertaking the 12-hour overnight shift, who had to battle the rain during the installation.
Despite these tricky conditions, the UV-curing process got underway quickly, with incredible results.
This complex rehabilitation project was completed within the prescribed 12-hour timeframe and to the satisfaction of all parties. There was minimal disruption to the local businesses, no impact to retail trade and the result was a strong new pipe, far exceeding the strength of the original.
The team on site attested to the great training they received from a SAERTEX multiCom® Application Engineer ahead of the project and the support they received from Pipe Core, exclusive supplier of the SAERTEX-LINER® range in Australia and New Zealand.
"We were very grateful to SAERTEX multiCom® and Pipe Core and appreciated all the extra tips shared with the team to ensure the job was a success."