STEIN Engineers with CargoCap in the German Pavilion at the World Expo in Dubai
For 170 years, World Expos have provided a platform to showcase the greatest innovations that have shaped the world we live in today and it is unbelievable but true! The CargoCap system is part of the exhibition in the German pavilion at the World Expo in Dubai!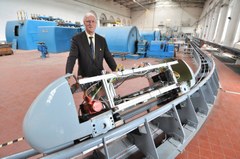 In the exhibition area "Future City Lab" CargoCap is presented here as an essential part of the future life in cities. Because with our system, palletised goods can be automatically transported from freight distribution centres on the periphery of cities or conurbations to city districts or to major customers, logistics centres, etc. through underground pipelines; and this independently of above-ground traffic jams and weather conditions! In this way, we not only contribute to minimising CO2 emissions, but also increase the quality of life and competitiveness of our cities. Dr.-lng. Robert Stein is responsible for the CargoCap system within STEIN Ingenieure GmbH, Germany.
Contact
STEIN Ingenieure GmbH
Dr. -Ing. Robert Stein
Managing Director
Konrad-Zuse Str. 6
44801 Bochum
Germany
Phone:
+49 234 5167 0
E-Mail:
bochum@stein-ingenieure.de
Internet:
To website