Rob Carr passes midpoint on Quinns Main Sewer
Rob Carr continues to kick goals on the construction of the Quinns Main Sewer project for Water Corporation with approximately half of the project now complete.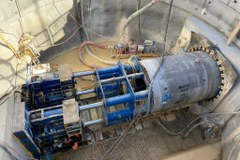 A combination of micro tunnelling and open trench pipe laying will be used to construct a 1.9 km wastewater pipeline with an internal diameter of 1.8 m, including one of the longest micro tunnelled drives carried out in WA. When completed this will enable the transfer of wastewater from the adjacent area to the Alkimos Wastewater Treatment Plant in accordance with the long-term wastewater distribution system plan.
The project commenced construction activity in February 2022, and has swiftly seen the completion of two of the four major micro tunnelled drives. The first drive of 190 m was completed in May with the second 312 m drive successfully completed in mid July 2022. Both drives were predominately through solid limestone conditions and were completed on time.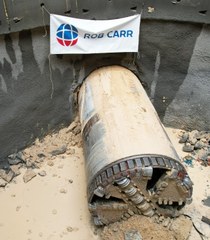 During this time, construction was also ongoing and since completed for the 24 m deep shaft required for the longer 637 m curved drive. Shaft 2097 was constructed using a combination of in situ concrete caisson sinking and underpinned precast segment techniques. The construction method was altered to suit the varying ground conditions encountered during the construction of the shaft.
Work has since commenced on our 3rd drive, some 630m long with our tunnel boring machine "Bakton launched from this same 24 m deep shaft. Bakton is 200m into its journey and crossed the Joondalup rail line and the Mitchell Freeway during a planned rail shutdown in late August 2022.
The 630 m drive also consists of a 600 m radius curve which necessitated the use of a VMT guidance system with the drive traversing through the most challenging ground conditions on the project where the machine will tunnel through a combination of sand and soft to hard pinnacle limestone.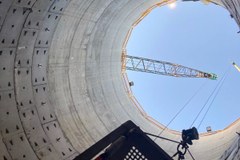 Other works on the project consisted of a 400 m open trench section of sewer pipeline, which has been since has been laid with welding of the PVC pipe liner and access shaft construction now underway for that section of work.
Following completion of the tunnelling, construction will commence on the 27 m deep vortex manhole. The vortex manhole will be constructed from in situ reinforced concrete utilising both PVC and GRP to protect the concrete from corrosion caused by the sewer gasses.
The entire project is due to for completion in early 2023.