Pipe Robot SIGMA HD-LR: The Perfect Choice to Inspect Extra-long Distances
The new, battery-driven robotic pipe crawler is suitable for long-range pipe inspection challenges and is available now at Fiberscope.net. The system can inspect more than a mile of pipe in a single run.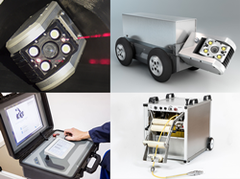 The Pipe Robot SIGMA HD-LR is the perfect fit for extra long-range inspections thanks to its interchangeable LiFePO4 battery, which allows saving energy and adding extra friction due to its weight as opposed to using a control unit for power supply. This convenient crawler comes with many more useful features.
This handy inspection unit comes with two HD cameras. One camera includes pan, tilt, and zoom features and the other camera provides a full view from the rear of the crawler. The cameras have the option of either manual or auto focus with a range of 10mm and beyond.
The camera is virtually waterproof (can take up to 1m in freshwater) and has a waterproof rear connector. An onscreen length counter allows the operator to keep better track of the inspection and provides increased control.
The inspection can be observed via two touch screen monitors (a 17.3" main one and a 7" control one) and controlled through two joysticks and a touch screen menu. All the electronic parts of the unit are housed inside a portable PELICAN case. The Pipe Robot is powered by two powerful motors of 160 watts each and is equipped with cruise control and a roll sensor.
Additional features include laser measurement, image stabilization, pressure sensors, an inclinometer, a gyroscope, built-in TELESCAN software and a telemetry computer. Furthermore, the unit is steerable and comes with 4x4 wheels. A built-in memory of 256Gb allows retaining of the captured images.
The motorized reel has a working length of up to 2,000m (6,560') and a diameter of 5.0mm (0.19"). It regulates itself, making the job easier. The cable is Kevlar-reinforced and covered in polyurethane housing. The temperature of operation ranges from -10°C to +40°C, making the Pipe Robot ideal for different conditions and times of the year.
The Pipe Robot SIGMA HD-LR is perfect for extra long-range inspections in a variety of conditions. It's various features, such as its motorized reel and dual cameras, make it the preferred choice for your inspection.
Contact
Medit Inc.
Sotirios "Terry" Peristerakis
Vice President of Sale
1-1599 Dugald Rd
MB R2J 0H3 Winnipeg
Canada
Phone:
+1 877 613 2210
E-Mail:
terry@meditinc.com
Internet:
To website