Ovarro Completes Acquisition of Datawatt
Remote monitoring specialist Ovarro has completed the acquisition of Datawatt, a Netherlands-based technology and automation company serving the water and energy sectors.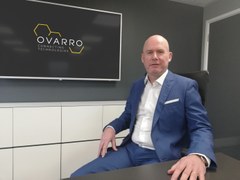 Established in 1977, Datawatt provides technically advanced monitoring and telemetry solutions, including remote terminal units (RTUs) and SCADA systems.
Ovarro, a subsidiary of Laurel Solutions, is a market leading provider of RTUs, acoustic leakage data loggers, SCADA systems and intelligent analytics software for the global water industry, as well as oil & gas, broadcast and transportation sectors.
Ovarro chief executive David Frost said: "The Ovarro management team are delighted to welcome Datawatt to the Ovarro team. We are firmly committed to continued investment in Datawatt's people, technology and engineered solutions, so that together we may grow and develop our combined range of products and software services for all our customers in markets around the world."
Datawatt general manager Roy Gerding said: "The combination of Ovarro and Datawatt provides us with the opportunity to continue to support our established end markets and customers whilst leveraging the financial and human capital of the Ovarro business to expand our market position around the world."
Laurel Solutions chief executive Martin Carter added: "Ovarro's acquisition of Datawatt continues to demonstrate the investment strategy to further develop as an industry leading player in remote monitoring and control of critical assets, where safety, reliability, efficiency and productivity are of utmost importance."
Contact
Ovarro Ltd
Kathryn Langley
Global Marketing Manager
Rotherside Road
S21 4HL Sheffield
United Kingdom
Phone:
+44 1246 437580
E-Mail:
kathryn.langley@ovarro.com
Internet:
To website