New Product System for Efficient Hand Lay-up Lamination in Sewer Rehabilitation
With ombran SC, MC-Bauchemie has developed a new, odourless and styrene-free reactive resin for use in the hand lay-up lamination of sewerage structures. It constitutes the main component of a complete system which additionally comprises the carrier material ombran L 450 and the catalyst ombran SC Cat L.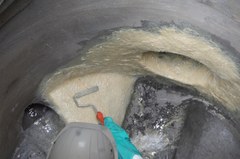 Hand lay-up laminates are particularly suitable for the lining of complex construction geometries. With ombran SC, MC-Bauchemie has launched a reactive resin covering a wide range of applications in the wastewater sector: From the connection of CIPP liners and the coating of channels and berms in manhole shafts to the provision of BSAC-resistant membranes and the addition of GRP elements and panels.
The complete rehabilitation solution
In addition to the organic-mineral resin ombran SC, the integrated system includes the carrier material ombran L 450 consisting of an ECR glass fibre mat (powder-bound, random-layed chopped fibres) with a basis weight of 450 g/m². As an integral part of the system, the catalyst ombran SC Cat L enables flexible control of the curing rate of the laminate system.
Fast application without odour nuisance
The low-viscosity, two-component organic-mineral resin is easy to apply and can be reworked quickly to allow continuous progress. It cures quickly even at low temperatures and without the need for any additional heating. At just 10 °C material and ambient temperature, the laminate applied with a 3-layer lay-up structure under controlled addition of the catalyst ombran SC Cat L is water-resistant after just approx. 45 minutes.
Since – unlike the laminating resins commonly used to date – it is odourless and styrene-free, there is no odour nuisance during the lamination process, thus protecting not just the applicator but also local residents from unpleasant odours.
High chemical and mechanical resistance
ombran SC adheres to glass- and synthetic-fibre CIPP liners and short liners as well as to dry and matt-damp substrates such as mortar, concrete, brick and ceramics, to provide high chemical and mechanical resistance. As the product is water-vapour-diffusible, it does not show any osmotic blistering in the event of possible rearward moisture penetration of the structure.
Because the reaction times of the organic-mineral resin can be specifically controlled and adjusted with the aid of the catalyst ombran SC Cat L, contractors can be confident of safely applying a durable hand lay-up laminate, even under the challenging conditions encountered in sewers.
Contact
MC-Bauchemie Müller GmbH & Co. KG
Saki M. Moysidis
Am Kruppwald 1-8
46238 Bottrop
Germany
Phone:
+49 2041 101 640
Fax:
+49 2041 101 688
E-Mail:
saki.moysidis@mc-bauchemie.de
Internet:
To website