Leakage Dog Kilo Earns His Stripes
The newest recruit in United Utilities' war on water leaks has graduated with flying colours. Leakage dog Kilo proved he "nose" what he's doing when it comes to sniffing out the smell of escaping water. The newly trained springer spaniel has managed to save a wag-tastic 72,000 litres a day after finding a hidden leak in a field that could have been running for months.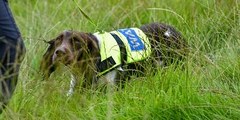 Working with trainer Luke Jones and veteran spaniel colleague Denzel, Kilo patrols the rural water mains network of North West England.
The dogs' noses are finely tuned to the distinctive smell of chlorine traces in tap water. Even when the leaking water never comes to the surface, the dogs can detect tiny amounts of chlorine escaping up through the ground.
Luke said it was a milestone in Kilo's training: "So far he has been shadowing older dog Denzel and learning the ropes, so to speak. This is the first leak Kilo has found by himself and it was a big one. Kilo is going to be a great addition to the team."
One-year-old Kilo, whose full kennel name is Achelous (named after the ancient Greek god of fresh water), found the leak in a field near Bassenthwaite in Cumbria.
Hannah Wardle is leakage manager at United Utilities. She explained how the sniffer dogs help the rest of the human leakage detection team: "Most water leaks never show above ground so we have to go looking for them. It is very difficult for our engineers to use their traditional "listening" techniques out in the countryside because there are very few fittings or valves for them to access the pipework. It's like looking for a needle in a haystack. The dogs can cover large distances quickly and if they find a point of interest then we send in our human teams to double check. It's a terrific partnership."
United Utilities has committed to reducing leakage by 15 per cent over the next five years. As well as the sniffer dogs, the company is using the latest innovative technology including 100,000 acoustic logger devices, and artificial intelligence to sift through vast amounts of data and recognise and pinpoint leaks more quickly.
Contact
United Utilities Group PLC
Haweswater House, Lingley Mere Business Park, Lingley Green Avenue
WA5 3LP Warrington
United Kingdom
Phone:
+44 345 072 0822
Internet:
To website