Leading Geotechnical and Environmental Engineering Firms ENGEO and TerraCosta Join Forces
ENGEO Incorporated acquires TerraCosta Consulting Group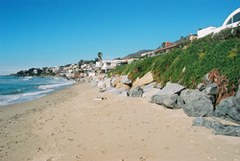 Two leading geotechnical and environmental engineering firms have come together to form a team that is unrivaled in technical excellence and client service. ENGEO Incorporated and TerraCosta Consulting Group (TerraCosta), a long-time San Diego firm, have combined to create California's most comprehensive geoscience company, with more than 90 registered Geotechnical, Geologic and Environmental professionals and a total staff of more than 350 professionals located in California, Nevada, Washington, Guam, New Zealand, and Australia.

"This merger is all about our clients. We're eager to extend our absolute dedication and exceptional service to TerraCosta's clients; likewise, TerraCosta's expertise will bring a new level of service to ENGEO's clients. Combining the companies will result in a powerhouse of talent equipped to tackle any project. This is a great step in advancing ENGEO's vision to be the most admired and trusted service firm in the world," said Uri Eliahu, ENGEO's President and CEO

"We're excited to join ENGEO's deep bench of talent and bring their unique, client-focused technical capabilities to our clients. In addition, combining ENGEO's and TerraCosta's intimate familiarity with California's geotechnical, coastal, and seismic setting will significantly enhance the value that we bring to our clients," said Walt Crampton of TerraCosta.

Crampton will continue his decades-long project service from the firm's San Diego office.

TerraCosta is a geotechnical and coastal engineering firm with professional staff that have varied technical backgrounds covering the majority of the earth science disciplines. The staff includes a coastal engineer, an oceanographer, geotechnical engineers, and geologists, with combined geotechnical and coastal engineering experience of over 200 years. TerraCosta is a California corporation established in 2001 and maintains one office in San Diego, California.

TerraCosta specializes in coastal geomorphology (the evolution of coastal landforms) and the evaluation and mitigation of adverse geotechnical conditions impacted by coastal processes, including sea level rise. The firm's typical marine projects include coastal bluff properties, piers, marinas, waterfront facilities, sea walls, and other coastal improvements.

TerraCosta also provides geotechnical engineering services for site development and the design and construction of foundation systems for structures. Characterization of the existing soils and geologic conditions at sites and appropriate geotechnical design parameters are evaluated for use by project design teams. Geotechnical consulting services include evaluation of potential geologic hazards, such as landslides, faults, liquefaction, ground shaking, and others.

TerraCosta is considered unique in the field of geotechnical consulting because it offers full-service A&E design services, which are provided by in-house staff, and include permit processing, preparation of plans and specifications, and construction period monitoring.

For more information, click Here.

 

 
Contact
ENGEO
Luis D. Sosa
Merlot Marketing
2010 Crow Canyon
P #2501 San Ramon, CA
United States
Phone:
+1 916 285 9835
E-Mail:
info@engeo.com
Internet:
To website