Industry 4.0, Covid, and the digitalisation of gas safety in water
Though gas detection and monitoring have long been a key part of health and safety in the water sector, it's a topic that the Covid pandemic has driven up the industry's agenda according to Draeger Safety UK's Adam Pope.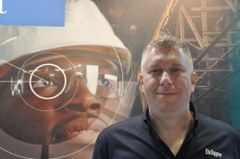 Increased lone working post-Covid due to social distancing and other lockdown regulations, alongside the UK wastewater industry's growing deployment of anaerobic digestion and biogas facilities, are just two issues prompting increased focus on gas safety in water.
The lone working trend has been further fuelled by improvements in technology which mean that managers can work remotely, as well as financial pressures facing the water industry – which are likely to see this increase in the future.
And amid growing scrutiny by the Health and Safety Executive (HSE), it is widely expected that regulations will come under tighter focus.
However, while critical to the safety of those working in the water industry, gas safety can feel like a complex and challenging issue – not least given recent advances in connected and digital "Industry 4.0" technologies designed to accelerate automation and data exchange within manufacturing processes.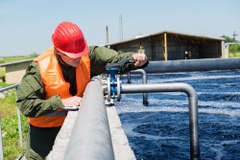 Early adopters reaping rewards
The concept of technological connectivity boosting outcomes is not a new one, with the term Industry 4.0 first coined over a decade ago.
More than 15 years later, the ideas and technologies promised as part of a fourth industrial revolution have indeed brought far-reaching benefits – spanning big data and cloud computing, to predictive maintenance, Industry 4.0 has positively impacted many areas of the water industry.
Yet safety is the one area where its full potential is yet to be fully realised.
The possibilities for these technologies when it comes to gas safety are significant, and there have been some major advances in innovation within this area over recent months. From real-time monitoring of hazardous environments such as sewers, to interconnecting systems which communicate and respond to one another to safeguard personnel across a clean water site, the applications are far-reaching. And early adopters are seeing significant benefits.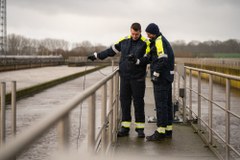 Tech delivering robust safety solutions
Water industry gas hazards are varied, and include everything from treatment units, tanks, service reservoirs, chemical handling and storage areas, to pumping station wells, sumps, overflows, boreholes, sewers and manholes.
The most frequently encountered are flammable gases such as methane and fuel vapours, toxic gases such as hydrogen sulphide, and oxygen displacement. But there are also risks from oxygen enrichment where oxygen injection is used for wastewater processes, and chlorine, sulphur dioxide and ozone for clean water treatment.
Gas detection is therefore a critical and a life-saving measure to ensure the safety of engineers and other personnel – and also that of plant equipment.
As part of a robust gas safety solution, portable monitoring devices would ideally be issued to all field engineers – potentially several thousand individual units. Using new innovation in this space, a connected smart safety system can be created to link all of these.
This offers key benefits including live monitoring, meaning that workers on site, or managers in a central location, can pinpoint the position of their colleagues and the status of their gas safety at any given moment. If an alarm is activated, colleagues and managers would be immediately alerted to the risk, and receive key information. Furthermore, emergency services can be granted access to data which allows them to manage a given situation, if needed, with the data logged for later analysis.
This all means that hazards can be identified more quickly, countermeasures can be initiated faster, and correlations and anomalies can be analysed more easily to identify root causes.
This type of digitalisation also offers more efficient asset management by simplifying processes and centralising management while decentralising execution.
Device management and compliance are also far more straightforward, as data in relation to operational status, testing and calibration results can be collected and accessed from anywhere.
In this case, as with so many others, Covid has served as a catalyst to drive digital innovation, with changes to working styles prompting an urgent need for remotely-accessible real-time safety data.
Of course, it is vital that good training and a thorough understanding of such technologies are well-embedded as part of any new roll-out. Without this, there is a real risk that the full benefits may not be realised.
With demand growing throughout the industry to generate better insight and information to steer safety policies and approaches, there is a huge demand for data. And while this may feel challenging, advances in safety technologies are making this increasingly possible, and straightforward.
As connected and digital safety is starting to be better understood and harnessed in the water industry, and alongside the range of operational benefits, new technology heralds opportunities to safeguard those exposed to gas safety risks.
Contact
Utility Week
Stuart Stone
Wood Street Station Road
RH19 1UZ East Grinstead
United Kingdom
E-Mail:
info@fav-house.com
Internet:
To website