IMS partners with local companies to enter Australasia
German-based IMS Robotics has partnered with KRE Engineering and UVR Hire to enter the Australian and New Zealand trenchless markets.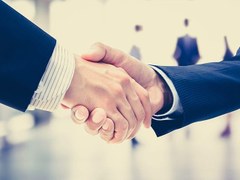 IMS, a leading developer, manufacturer and supplier of sewer rehabilitation technology, has established an affiliate company, IMS Robotics Australia, with its head office in Sydney.
KRE Director Keith Edmundson said the company is excited by the partnership and the opportunities it represents for the trenchless industry.
"We are very excited about the opportunity to represent the product portfolio of IMS Robotics and look forward to rendering the same level of services to the market, as we used to do for other brands, and of course, our own robotic cutting equipment," he said.
According to IMS, the partnerships will accelerate the market for main line cutting robots and UV curing technology in Australia and New Zealand, and has acknowledged KRE's presence in Australia as a specialist in the development and distribution of main line cutting robots.
IMS Head of sales and executive board member Konstantin Wolf said the new affiliate company will promote the group's full product portfolio.
"The new company will, besides the main line cutting and UV curing technology, also promote the brands and products of other IMS Robotics Group companies," he said.
"We are certain that we can add more value to the trenchless industry down under, and look forward to the next steps."