iMPREG celebrates UV Liner installation success in the UK
iMPREG has helped complete the task of installing an ultraviolet liner in the United Kingdom.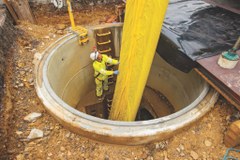 In
August 2022, a 10-person team installed what could be one of the largest ultraviolet liners ever installed in the United Kingdom. iMPREG states that it was one of the largest UC cured in place pipe (CIPP) liners installed by project partner Lanes Group.
The 42 m long and 1800 mm diameter liner took the effort of a full team and infrastructural planning prior to the installation.
iMPREG's UK Technical Manager, Jack Talbott, says that this is one of the largest diameter UV liners the company has supplied to a UK contractor. 
"The project demonstrates an expansion of what can be achieved by UV CIPP by matching advances in manufacturing and UV lining systems with the installation expertise of Lanes as a contractor," he says.
A GL16 liner was used at a length of 42 m and diameter of 1800 mm. The thickness of the liner for this project was approximately 15.5 mm. Additionally, the liner was supercharged with UV light train with three mega light cores with three 2000-watt bulbs each – the combined power output could come to 36,000 watts.
The liner was pulled through the storm drain on the project via a 10-tonne winch. Curing time on the project was approximately 70 minutes, with the curing speed having been set between 500 mm and 700 mm per minute. 
Overall, the operation took around 18 hours to complete. 
The GL16 liner made it easy for the team to plan and disregard a worrying weather forecast thanks to its lack of temperature sensitivity. Two 3 m diameter concrete chambers beneath the road were exposed, so the liner could easily be installed between.
However, the true success around this project was a successful collaboration between the teams of iMPREG, Lanes Group, Urban & Civic, and ProKASRO.
What first seemed like an overwhelming task was successfully achieved in one day. 
The whole iMPREG team is proud to work with such highly skilled partners around the world to complete projects of any scale. 
Gary Carey, Lanes Group's Lining Supervisor, says that though the project was challenging, it was able to succeed thanks to those involved pulling together as a team. 
"The Lanes sewer rehabilitation division's partnership with iMPREG and ProKASRO worked extremely well," he says.
Contact
IMPREG GmbH
Eisenbahnstrasse 32
72119 Ammerbuch
Germany
Phone:
+49 7073 300310
Internet:
To website