How Inflow and Infiltration Impacts Sewer
Inflow and infiltration is an ongoing challenge in every collection system. And it's more than a buzzword: The cost of excessive flow can take a big bite out of community resources.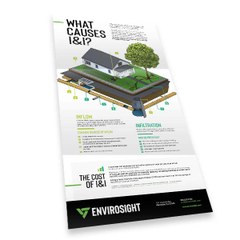 Collection systems are designed to carry a set amount of wastewater, and when flow exceeds that amount, it can lead to severe structural and environmental damage.
Identifying sources of I&I and mitigating excessive flow is no small job, but it's crucial to a healthy sewer system.
Our new, FREE poster helps you and your team stay on top of major sources of I&I. Whether you're training new crew members or keeping seasoned pros on track under increasing regulatory requirements, it's an easy reference to share in your truck, shop or office.