Grand Paris Express: Tunnelling finished on joint section for lines 16 and 17
A tunnel boring machine (TBM) has broken through at a shaft in north eastern Paris, marking the completion of tunnelling on a common section of lines 16 and 17 for Société du Grand Paris' Grand Paris Express project.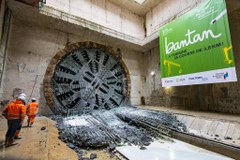 The TBM named Batan ended its 3.8km journey in Paris' Aubervilliers suburb on 1 March when it broke through the wall of the canal shaft.
To construct the common section of lines 16 and 17, which runs between the Saint-Denis Pleyel and Le Bourget RER stations, the TBM began its journey from La Courneuve and excavated almost 28m below the city.
After the construction of a first section by TBM Sarah between the canal shaft and the Finot structure in Saint-Ouen-sur-Seine, Bantan was launched to finish the second part of the tunnel which stretches a total of 6.4km.
TBM, named after Bantan Diarra, the first female firefighter of La Courneuve, will now be dismantled with parts from the bottom of the shaft raised to the surface and removed from the site.
Grand Paris Express will consist of four new metro lines (15, 16, 17 and 18), and the 33km line 15 south is scheduled to come into service in 2025.
A TBM named Ellen finished its second and final drive on line 15 south last April.
Contact
Ground Engineering
Thames Mentheth
69-77 Paul Street
EC2A 4NQ London
United Kingdom
Phone:
+44 203 953 2151
E-Mail:
nia.kajastie@emap.com
Internet:
To website