Evoqua Water Technologies Invests in New Sustainability and Innovation Hub
Grand opening of a new facility focused on developing innovative and sustainable water solutions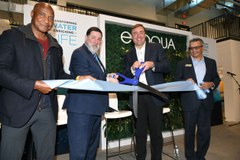 Evoqua Water Technologies, a leader in mission-critical water treatment solutions, today hosted a ribbon-cutting ceremony for the grand opening of its new Sustainability and Innovation Hub located in Pittsburgh, Pennsylvania. The commemoration brought together regional academic, government, and industry leaders.
The Sustainability and Innovation Hub is located in the Lawrenceville Tech Forge, part of Pittsburgh's urban technology park, and a hotbed for innovation in the region. The new facility will enable further advancement and development of cutting-edge and sustainable water treatment technologies critical to addressing emerging water trends, including water and climate risks, connectivity, and health and safety.
The 18,000 square-foot facility houses a hands-on demonstration and training area, pilot testing environment, and a state-of-the-art laboratory to grow Evoqua's analytical and feasibility study capacity. The collaborative workspace is designed to provide strategic and timely technical capabilities, illustrating the company's commitment to delivering excellence to its customers.
"Every day, the Evoqua team is committed to transforming water and enriching the lives of our customers and their communities," said Ron Keating, Evoqua's Chief Executive Officer. "The investment in this new facility aligns with our strategy to advance our research and development capabilities to help solve some of the world's most challenging water issues. In addition, the Hub will provide a path for future expansion of Evoqua's sustainable products and solutions while creating opportunities for collaboration with strategic partners."
To inaugurate the event, Ron Keating, Evoqua's Chief Executive Officer, was joined by the Mayor of Pittsburgh, William Peduto, a champion of sustainability and clean water resources, Evoqua Board Member and Hall of Fame athlete Lynn Swann, and Evoqua's Chief Growth Officer, Snehal Desai.