Essential Utilities' Pennsylvania Wastewater Subsidiary Reaches Agreement With City of Beaver Falls to Purchase Municipal Wastewater System Assets
Essential Utilities Inc. announced that its Pennsylvania wastewater subsidiary has signed an asset purchase agreement with the City of Beaver Falls in Beaver County to acquire the municipality's wastewater assets for approximately $41.25 million.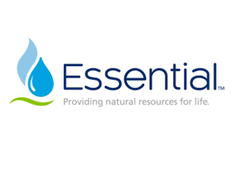 Beaver Falls' wastewater system serves approximately 7,600 customer-equivalents, including residential and commercial connections. The city currently provides sewer service to customers of Beaver Falls and seven outlying municipalities, including Patterson Township, Patterson Heights, White Township, West Mayfield, Big Beaver Borough, Eastvale Borough and North Sewickley Township.
"Our agreement with the City of Beaver Falls to acquire its wastewater system is our first in Beaver County," said Essential Utilities Chairman and CEO Christopher Franklin. "We're looking forward to benefiting our new customers by leveraging our expertise in compliance, large-scale purchasing power and other efficiencies that come from our national footprint."
The company anticipates the need for approximately $10 million in infrastructure improvements over the next decade with a focus on safety, security and treatment plant upgrades.
"On behalf of Aqua Pennsylvania and as the city's new wastewater system owner-operator, I want to thank the city council for its unanimous support. We look forward to the timely completion of this acquisition and are excited to serve customers in the City of Beaver Falls and surrounding communities," said Aqua Pennsylvania President Marc Lucca.
Beaver Falls is the fifth asset purchase agreement executed by Essential's Aqua companies in 2021. Including Beaver Falls, the company has seven signed purchase agreements for water and wastewater systems, which have a total purchase price of approximately $467.7 million and represent approximately 234,000 equivalent retail customers or equivalent dwelling units. The company closed six water and wastewater acquisitions in 2020 and two so far in 2021 representing an addition of approximately $99.0 million in rate base and nearly 20,000 customer equivalents to the company's footprint.
Contact
Communications & Marketing Gretchen Toner
762 W Lancaster Ave
PA 19010 Bryn Mawr
Phone:
484 368 4816
E-Mail:
Media@Essential.com
Internet:
To website