Courtesy of Mcelroy- Mobile App goes live for PPXXI
PPXXI Conference and Exhibition welcomes McElroy Manufacturing, Inc. as the mobile app sponsor. Their sponsorship enhances networking opportunities for the delegates. Scheduled over September 25 -27, 2023, in Lake Buena Vista, Florida, PPXXI is the key technical and business event for plastic pipe systems and one that only occurs every 2-years.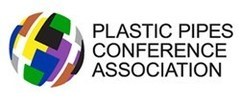 ¨We are particularly pleased to welcome McElroy Manufacturing, Inc.¨ Sarah Patterson, Organizing Committee Chair, comments. ¨From a two-person start-up in an Oklahoma garage in 1954, to design of their first polyethylene fusion machine in 1969, their services now span the globe enabling achievement of sustainable plastic pipe systems".
¨Our record of innovation includes innovative products such as the TracStar® 500, the first fusion machine in the world to be mounted on a track system, making it mobile in almost any terrain to the Talon™ 2000 that introduced a revolutionary new approach to fusing large diameter pipes up to 2 meter diameter¨ shares Jim Johnston, VP and Chief Technology Officer.
¨One of our most recent breakthroughs is the development of our Tritan™ 560 fusion machine. With a full 360-degree rotation and a boom that can raise, extend, and curl the carriage to approach and load pipe, the Tritan improves efficiency on site and enhances safety by eliminating the need to top-load pipe into the fusion machine. ¨ Mobile app features include the technical program, presentation and poster abstracts, personalized itineraries, profiles for speakers and companies, exhibition map and messaging capabilities with the other delegates.
A total of 92 papers will be delivered over the three day conference. Currently, ~290 delegates from 27 countries registered for PPXXI and 150 companies/organizations registered to be represented at PPXXI.
Contact
Plastic Pipes Conference Association
Peter Balassa
20 STATION rD:
HP7 0BP Amersham
United Kingdom
Phone:
+36 30 513 0255
E-Mail:
peter@evacon.hu
Internet:
To website