Central Interceptor hits pre-Christmas milestone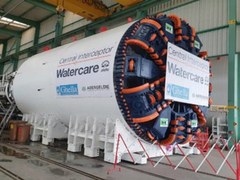 Watercare's tunnel boring machine for the Central Interceptor project in New Zealand has completed its undersea crossing of Manukau Harbour.
Hiwa-i-te-Rangi, the tunnel boring machine (TBM) bored a 1500 metre stretch of 4.5 diameter tunnel between 15 and 20 metres below the seabed. The TBM required 15 crews on a 24/7 schedule working underground to make the 11-week crossing smoothly.
Watercare's executive program director, Shayne Cunis, said that the successful crossing is due to the expertise of the tunnelling teams.
"It's a big relief to get this done successfully, and the fact that it comes just before Christmas means everyone can enjoy a well-earned holiday break," he said.
Since beginning its crossing in August 2021, Hiwa-i-te-Rangi has travelled more than four kilometres from the Māngere Wastewater Treatment Plant to its breakthrough on the far side of the harbour.
The first link sewer for the Central Interceptor also recently hit a milestone, with micro TBM Domenica achieving its third breakthrough in November.
Only 330 metres of tunnelling remain for the first link sewer before Domenica begins the second next year. The proposed extension of the Central Interceptor project is awaiting consent applications which are due to take place early in 2023.