Aquana Announces New Remote Shutoff Valve for Water Utilities
Economical AVS Valve Approved to Operate with Itron AMI Networks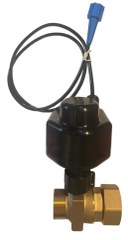 Aquana, LLC., a subsidiary of Geospace Technologies (NASDAQ: GEOS), today announced the release of the latest product in the Water IoT platform, a new remote shutoff valve known as the Actuator Valve Serial (AVS). Designed and manufactured in the U.S., the Aquana AVS valve is an IP68-rated remote disconnect ball valve designed to integrate with any existing Advanced Metering Infrastructure (AMI) platform.
The Aquana AVS provides an affordable solution for water utilities seeking to incorporate remote water shutoff into their service territory. The AVS helps improve employee safety while reducing operating expenses for water utilities by allowing remote start, stop, or reduced water delivery to specific locations without sending service personnel to the field.
While universally compatible with existing AMI platforms, the AVS has been approved for use with Itron's AMI network and is also compatible with AMI solutions from other vendors. This eliminates the need for a separate wireless connection to enable remote shutoff capabilities.
"Our collaboration with Aquana enhances the value of our offerings to water utilities with a solution that improves management of critical water resources," said Ty Roberts, VP Product Marketing at Itron, Inc. (NASDAQ: ITRI), which is innovating the way utilities and cities manage energy and water. "We are pleased the AVS valve is approved for use with our 100W and 500W ERTs. Itron is privileged to collaborate with Aquana as we expand our presence in the Smart Water IoT marketplace. As part of our ecosystem, the AVS's remote connect/disconnect capabilities can be deployed to simplify utility operations, and is controlled directly through our customers' existing Itron AMI interface."
"Given the rapid growth in the smart water technology market, we sought to expand our offerings to include an economical, simple-to-install valve for municipalities seeking to keep pace with the smart city movement domestically," said Steve Askew, President of Aquana. "By some estimates, 20% to 30% of all water produced by utilities is non-revenue. Our Aquana AVS helps utilities quickly respond to leakage events and more quickly resolve non-payment issues."
Aquana focused on shorter and easier installation time with the AVS product. The two-piece design allows for separate installation of the valve body and the actuator. While the NPSM Swivel Nut feature supports flexible installation orientation. The AVS offers up to five different valve positions including open, closed, and up to three reduced-flow options that utilities can customize to their needs. AVS includes built-in tamper detection that provides alerts in case of potential intrusion.
The new AVS product expands the Aquana smart valve portfolio of products targeted at the water utility market, joining the SV2 Smart Valve. The SV2 offers a fully integrated solution with either LTE-M cellular or LoRaWAN connectivity, automatic leak detection, and access to the Aquana Cloud for a full AMI platform including meter reading, remote connect/disconnect, and billing system integration.