Aqua Metro partners with Yarra Valley Water
Aqua Metro has been awarded a position on the Yarra Valley Water Pipes and Facilities Program of works.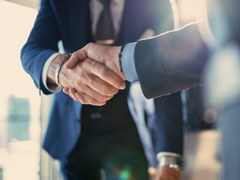 Aqua Metro made the announcement on LinkedIn, indicating that it will be a long-term partnership between the companies, with an initial term of five years and possibility of extension for up to 10 years.
The Yarra Valley Water Pipes and Facilities program manages approximately $60 million worth of assets per year, with the aim to improve water and sewer infrastructure across the region. Construction companies Jaydo and MFJ will also join the program under partnerships with Yarra Valley Water.
Aqua Metro chief executive officer Manish Pancholi said the partnership is vital to achieve the companies' shared goals. "We're really pleased to be selected for this long-term Collaborative Partnership," Pancholi said.
"Aqua Metro are committed to building strong relationships with Yarra Valley Water and all other engaged stakeholders, with a focus on building a healthy partnership to leave an enduring legacy for the program, customers and the community."
Yarra Valley Water growth futures acting general manager Phong Nguyen said the partnerships will allow the company to deliver on essential projects. "These new partnerships reflect our commitment to fostering deep relationships with our partners for the long-term benefit of our new Pipes and Facility program and ultimately our customers," Nguyen said.
"By bringing our partners into the early design stages of projects, we can maximise their impact. "That includes working alongside each other as one team, with dedicated workspaces in our office for partners that ensure people across the entire capital delivery chain are easily accessible."
Contact
Trenchless Australasia
Clemence Carayol
Editor
379 Docklands Dr,
VIC 3008 Docklands
Australia
Phone:
+61 3 9690 8766
Fax:
+61 3 9682 0044
E-Mail:
enquiries@primecreative.com.au
Internet:
To website