3D printed concrete wastewater chamber marks success for 'printfrastructure'
United Utilities and ChangeMaker3D have achieved a UK first by building a concrete wastewater chamber using 3D printing.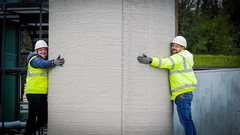 Over 12-months, ChangeMaker3D worked with United Utilities to design, 3D-print and install a wastewater chamber at one of the utility company's test facilities in Cheshire. With testing complete, the partners said it proves the potential of so-called 'printfrastructure', where 3D printing is used in construction.
According to the partners, 'printfrastructure' can deliver a 25 per cent reduction in carbon, 20 per cent in cost savings and a 55 per cent reduction in labour versus traditional methods.
In a statement, Lisa Mansell, United Utilities' chief engineer (Innovation), said: "We have a huge capital programme to deliver under tight deadlines. Digital technologies such as 3D construction printing can drive efficient construction and help us meet our Net Zero goals for carbon."
The chamber was printed in under four hours with a 'significant reduction' in the materials used. The printing process for the water chamber also demonstrated safety benefits by reducing the requirement to work at height or in confined spaces.
Natalie Wadley, co-founder and CEO of ChangeMaker3D, said: "After months of hard work, we are thrilled to see the water chamber in situ, with proven environmental and cost benefits. It's the result of a brilliant collaboration with United Utilities and our team of delivery partners, including CyBe Construction, Costain, Constructure, Ainscough Crane Hire and AutoMutatio. Thanks to them, we have achieved several UK 'firsts' – including the design, print and installation of a 3D concrete printed component for this sector, and the UK's first crane lift of a 3D printed structure.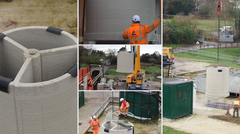 "Our mission is to support industry to leave a lighter footprint, and transforming the UK's infrastructure is critical if the UK is to reach 'Net Zero'. We believe 3D printed concrete has the potential to help deliver the green growth our country needs. Our aim now is to continue to work with United Utilities to grow the impact. We want to prove this is a technology that can have widespread uses not just in the water sector, but for rail and highways, too."
Change Maker 3D were selected for United Utilitites' Innovation Lab at the start of 2021 and over 12-weeks they worked with the company to identify the best component to design and demonstrate. The team selected a wastewater distribution chamber, which provided a technical challenge and the opportunity to bring a more sustainable approach to a component which has traditionally been carbon heavy.
The team created a digital model of the 1.8m cylindrical chamber that was then printed offsite by CyBe Construction, a process that followed a computer design to pipe mortar through a robotic arm.
The chamber was then placed into position at its new home in Cheshire where further testing has since taken place.
"Through the process, we've been able to carry out all the rigorous testing we would want around strength, durability and water tightness," said Mansell. "This is important for giving our construction partners comfort around the new technology, because ultimately we'll be asking some of them to adopt it."
Contact
ChangeMaker 3D
Luke Wadley
Managing Director
Unit B, 76 Kingsholm Rd
GL1 3BD Gloucester
United Kingdom
Phone:
+44 1452 543819
Internet:
To website