Building Pipelines To Bring Gas to LNG Terminals
U.S. midstream companies see natural gas pipelines and export terminals in Texas and Louisiana as key factors in their growth for the foreseeable future.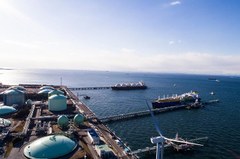 Natural gas projects are expected to be the mainstay of growth in coming years as production rises and shippers find new customers in Europe, which is trying to wean itself off of Russian energy, and in Asia, where many countries are boosting imports of LNG.
"The biggest opportunity right now is primarily in serving LNG, whether it's adding U.S. export capacity or building pipelines to bring the gas to LNG terminals," said Stephen Ellis, a strategist at financial services firm Morningstar.
As Reuters reports, Kinder Morgan Inc., which kicks off the midstream earnings season on Wednesday, recently received the green light to finance expanded capacity on its Permian Highway Pipeline, which ships gas from west Texas to Houston for export.
The Houston-based pipeline operator is expected to report earnings per share of 27 cents for the quarter ended June 30, compared to adjusted earnings of 23 cents per share from the same period a year ago.
The expansion followed several proposals to build liquefied natural gas (LNG) processing plants along the U.S. Gulf Coast, which have the potential for liquefaction of about 3.1 billion cubic feet per day (Bcf/d) of new gas supply, to take advantage of rising European and Asian demand.
Contact
Pipeline Technology Journal
Dennis Fandrich
Editor in Chief
Marie-Jahn-Str. 20
30177 Hannover
Germany
Phone:
+49 511 90992 20
E-Mail:
ptj@eitep.de
Internet:
To website