Tokyo averts floods with an intricate cavern of underground tunnels and vaults
About 14 storeys beneath bustling Tokyo, or 42m underground, lies a cavern of tunnels and vaults that temporarily stores swelling rainwater to prevent flooding above ground.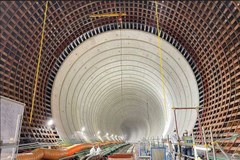 Climate change has, however, drastically increased the risks of inundation, given higher odds of stronger typhoons and prolonged bouts of heavy rainfall.
Plans are under way to further grow the city's operational reservoir capacity to 3.6 million cubic metres – from the current 2.64 million cubic metres – by the end of this decade, with the construction of more underground facilities, officials from the Tokyo Metropolitan Government (TMG) told The Straits Times on Friday.
On top of that, another 1.5 million cubic metres of reservoir storage is expected to be under construction in 2030, with Tokyo aiming for a total planned capacity of 5.1 million cubic metres, which is enough for 2,040 Olympic-size pools. ST understands that this number will be reviewed again in fiscal 2023, which begins on Saturday. This is part of a 6.6 trillion yen (S$66 billion) plan to strengthen the capital's resilience against flooding, alongside plans to raise coastal sea walls and river embankments. The current system of 28 so-called "regulating reservoirs", with a capacity enough for 1,056 Olympic-size pools, comprises 16 in-ground reservoirs, nine underground vaults, and three underground tunnels.
But Tokyo's urban planners are increasingly concerned that this existing network is not robust enough to cope with extreme weather events. Mr Tetsuro Fujisaki, TMG's director for urban resilience, told ST that Tokyo had a close shave when Typhoon Hagibis slammed directly into the capital in October 2019, bringing a record-breaking total precipitation of 650mm. While the network of underground vaults and tunnels kept flooding to within 0.85 sq km – with damage to about 600 buildings – it was brought nearly to the brink: One vault was 98 per cent full, while another tunnel, 91 per cent.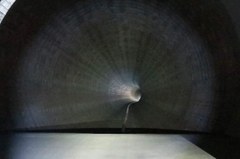 "Typhoons and torrential downpours are expected to become increasingly frequent and severe due to climate change," Mr Fujisaki said, citing the United Nations' Intergovernmental Panel on Climate Change forecasts of a rise in temperatures by 2 deg C by 2100. TMG's forecasts show that this will bring 1.1 times more rainfall and a 60cm increase in sea levels to the capital.
Tokyo is sharing its expertise of using underground space to manage flooding risks with regional capitals such as Kuala Lumpur and Jakarta. ST also reported in January that Singapore's national water agency PUB is exploring the use of underground space to combat inland and coastal flooding. The buttressing of anti-flooding measures is one of five pillars under the Tokyo Resilience Project announced by the city's Governor Yuriko Koike in December 2022, ahead of the centennial of the Great Kanto Earthquake on Sept 1, 1923, that flattened Tokyo and killed more than 100,000 people.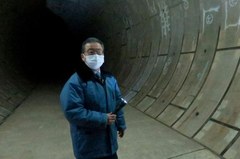 The other four pillars of the project, with an overall budget of 15 trillion yen and expected to run into the 2040s, include measures against earthquakes, volcanic eruptions, power and communication disruptions, and infectious diseases.
On a recent visit to the Kanda River/Ring Road No. 7 underground regulating reservoir, Mr Kimihito Mukoyama of the TMG's Bureau of Construction told ST that the facility has taken in water 44 times since it became operational in 1997. He compared two typhoons – one in August 1993 and another in October 2004 – to show its impact. While the 1993 typhoon brought 288mm of rainfall and flooding to an area of 85ha, flooding from the 2004 typhoon was capped at 4ha despite similar precipitation of 284mm.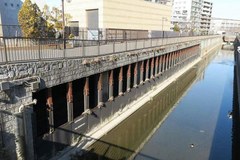 ST understands that despite measures to reduce flooding damage, TMG officials believe it is next to impossible to eradicate flooding completely during heavy downpours given the capital's concrete terrain, as some inland areas are far from river drainage systems. And while in-ground reservoirs are easier and faster to build, Tokyo dug deep underground – the vaults and tunnels run even deeper than its subway lines – especially in central Tokyo's 23 wards. At the Kanda River/Ring Road No. 7 facility, it takes about one minute by elevator to reach the reservoir 42m below ground.
The underground tunnel – 4.5km long and with a 12.5m inner diameter – was built over two phases from 1988, and can store about 540,000 cubic metres of water – or enough to fill 216 Olympic-size pools. When river water threatens to reach a "danger" level during a typhoon or downpour, the gates to the facility will open to allow water to flow underground. This is pumped back up above ground and into the river, where it will flow into the ocean after the rain stops and the river water level ebbs.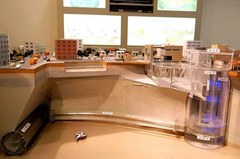 Construction is under way to link the Ring Road No. 7 reservoir with another 3.2km facility at Shirako River in north-western Tokyo through a connecting tunnel. When completed, the overall facility will measure 13.1km in length and have a total capacity of 1.43 million cubic metres.
TMG is considering further expanding the facility to include rivers such as the Meguro River in the south-east. Mr Mukoyama told ST that the Kanda River/Ring Road No. 7 reservoir has uses beyond flood prevention. In the drier months of December to May, about 60,000 cubic metres of water is stored in the reservoir for emergency use in case of water supply disruptions during such disasters as earthquakes. In such a scenario, the water can be pumped back up to the surface using back-up generators for public use, he said.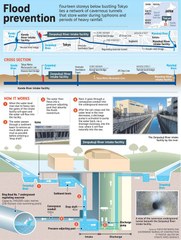 Contact
The Straits Times
Walter Sim
Japan Correspondent
1000 Toa Payoh North
318994 Singapur
Singapore
Phone:
+65 6319-5397
Fax:
+65 6319-8275
E-Mail:
stforum@sph.com.sg
Internet:
To website