Northumbrian expands 'self-healing' leakage tests
A gel and mineral-based solution allowing leaking water pipes to 'self-heal' without the need for excavation is being tested by Northumbrian Water field teams across the north east after a successful trial in Newcastle.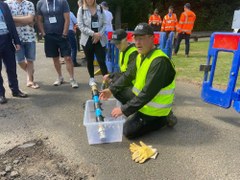 Unveiled and trialled at Northumbrian Water's Innovation Festival in July, No Dig – developed in tandem with Gateshead-based sustainable tech firm Origin – aims to improve the speed at which teams can fix leaks while avoiding digging up roads and pavements, and saving water.
Made from water, gel and minerals, it is designed to quickly stop or stem leakages without necessarily knowing their exact size or location.
Adapted from technologies already implemented in the oil and gas sector with the help of chemical solutions provider Aubin, No Dig sees a non-toxic sealing medium injected at the approximate location of a leak between two memory shaped pigs deployed to isolate a section of pipe. Pressure is then applied to both pigs, squeezing the sealant into the leak.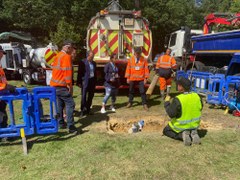 According to Origin, the minerals used in No Dig are sized and shaped to interact with the substrate around the pipe. The solution leaks out of the pipe as water would, hits the substrate, and starts to block the leak immediately. The pigs are then pumped out of the pipe.
"It is still early days at the moment, but we are seeing some really positive progress in this project and we really do think it could completely change the way we, and in time all water companies, operate in the future," Jim Howey, head of water networks at Northumbrian Water said. "There is a lot of potential here.
"As well as wasting water, leaks can also cause lots of disruption for customers if we need to carry out excavations – but this will eliminate that tricky step from our process."
No Dig trials have already been carried out on live water mains across the north east over the past year, with the solution rolled out in Newcastle, Seaton Delaval and Bowburn, for example.
News of Northumbrian's broader trials comes after parts of England experienced the driest since records began following five months of below-average rainfall, and with widespread drought placing extra pressure on water efficiency.
Water companies have already committed to cutting leakage rates in half by 2050 with firms employing solutions as diverse as satellites and sniffer dogs to both track and tackle leaks.
Contact
Northumbrian Water
Abbey Road
DH1 5FJ Durham
United Kingdom
Phone:
+44 345 717 1100
Internet:
To website