Finland Determined To Build New National Network of Hydrogen Pipelines
Finland intends to construct and operate a national hydrogen transmission network and link this infrastructure to other countries in the Baltic Sea region.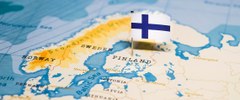 This advanced energy network will help reduce carbon emissions and bolster the long-term security of Finland's energy supplies following its decision to stop using Russian gas. State-owned Gasgrid Finland, which has so far transported natural gas mostly from Russia, would build the network over the next several years.
Construction will start in southeastern Finland near the Russian border with a 15-km (9-mile) hydrogen pipeline from chemicals producer Kemira's fertilizer plant in Joutseno to steelmaker Ovako's plant in Imatra, Finance Minister Annika Saarikko said.Finland has several alternative sources of energy, including nuclear, but is interested in expanding the use of hydrogen, which can help reduce carbon emissions if it is produced using renewable electricity.
Saarikko said the network, which will take years to complete, would consist of three "hydrogen valleys", with two of them on the western coast near existing wind power infrastructure and one in southeastern Finland.
"Finland has excellent wind power resources, highly competitive electricity price and stable social structure. Advanced energy networks will enable Finland's competitiveness on the global market in the creation of value chains, investments, and jobs in the hydrogen economy. Finland's leadership and expertise in the development and implementation of renewable energy and sustainable technology solutions will also be a significant advantage in international competition. Finland has every possibility to become a leading country in the hydrogen economy, but we must be able to get the message across internationally," says Gasgrid Finland's CEO Olli Sipilä.
Part and parcel of this new infrastructure is the Nordic Hydrogen Route – Bothnian Bay, already underway. The Nordic Hydrogen Route is a cross-border project between Finland and Sweden aimed at building a network of pipelines in the Bothnia Bay region, the most northern part of the Bothnia Bay separating Finland from Sweden.