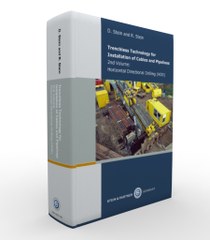 In various countries, the installation of pipelines for supply and disposal is often planned and executed using the open trench method.  But it is an easy task for skilled workers, engineers as well as communities and citizens to list the numerous disadvantages of said method such as traffic obstructions, noise pollution and the risk of damages to nearby buildings.
That is why UNITRACC takes a step into the future and supports the trend towards trenchless technologies: The reference book "Trenchless Technology for Installation of Cables and Pipelines - 2nd Volume: Horizontal Directional Drilling (HDD)" is online for customers of the UNITRACC Knowledge Portal.
The Technique, Costs, Customers and Citizens Happily United
The successful implementation of a construction project using HDD requires in-depth knowledge of the subject areas machine technique, control and locating technology, as well as details regarding drilling and flushing fluid. Theoretical principles of soil mechanics and hydrogeological regulations are integrated into the online specialist book and are supplemented by extensive descriptions of the method of operation and sequence. 
In addition, the online learning unit conveys information on application areas and limits of Horizontal Direction Drilling.  Equipped with the necessary background know-how, the modern method is easily applied to everyone's satisfaction.
The new technical book is imperative for any planners, engineers, and decision makers and persuades every user with UNITRACC's mission statement: fast and intuitive understanding and better knowledge transfer via the usage of comprehensive 3D visuals and graphic representations. Thus, around 500 images and circa 100 extensive tables demonstrate complex contents impressively.
Expertise in pipeline construction, pipeline maintenance and pipeline management 24/7
Time pressure and work overload mean information has to be available for 24 hours, seven days a week – and UNITRACC is just like modern life: digital, flexible and online.
A registration for the knowledge portal enables up to 15 employees of companies, municipalities and engineering offices full access to over 100 didactical edited lections, 10,000 visualizations, and videos as well as 100,000 pages of specialist information including other technical books with information on e.g. micro-tunneling methods and the rehabilitation and maintenance of drains and sewers.